We are proud supporters of the Sheldrick Wildlife Trust, a charity we are very passionate about. They are best known for the rescue and rehabilitation of orphaned elephants and rhinos in Kenya, helping these orphans back to the wild where they can begin families of their own. We support the Trust by giving an annual donation of £750.
About Sheldrick Wildlife Trust
The Sheldrick Wildlife Trust (SWT) exists to protect and conserve wildlife and habitats in Kenya. Through their world-renowned Orphans' Project, the Trust afford a future for orphaned infant elephants and rhinos in the wild when grown. Alongside the Orphans' Project, the SWT team operate various other projects including Anti-Poaching Units and Veterinary Units in partnership with the Kenya Wildlife Service (KWS), as well as Saving Habitat Projects that empower community-led initiatives to protect and preserve areas of biodiversity.
SWT Orphans' Project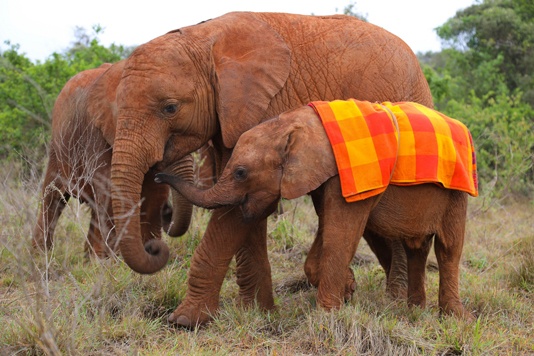 The Orphans' Project is the first and most successful orphan elephant rescue and rehabilitation program in the world. The Sheldrick Wildlife Trust has successfully raised more than 262 baby elephants who have become orphaned, most often because of human actions.
There are a growing number of threats facing elephants today. Many of these threats are manmade, through direct actions such as ivory poaching, bushmeat poaching or deadly conflict with communities, but the threats also come through indirect actions such as deforestation, habitat loss and climate change.
Working closely with the Kenya Wildlife Service, the Trust rescues milk-dependent orphan elephants from across Kenya and offers them a safe haven and a nurturing family environment where they can overcome any physical or emotional traumas, raising them in such a way that they can return to the wild when grown.
Just like humans, baby elephants thrive on stability and social bonds. Newly rescued elephants are welcomed and absorbed into the orphan herd, becoming part of a surrogate family led by the Keepers who remain with the elephants 24 hours a day, providing a comforting presence as the orphans heal from the grief of losing their mothers. The SWT Nairobi Nursery provides a safe haven for the baby elephants to recover both physically and emotionally from the traumas that left them orphaned. They are given time to grieve, to form new bonds and to establish themselves within the Nursery herd. As orphans heal and improve in body condition, the Keepers are on hand to teach basic social and survival skills which include what plants to eat, as well as providing milk feeds every three hours, day and night. By the age of around three or four years old, orphans are ready to begin the next stage in their reintegration and are relocated to one of the Trust's three Reintegration Units, all located in the Tsavo Conservation Area which is home to Kenya's largest elephant population.
Here, the orphans have the opportunity to mix with – and learn from – older orphans and wild herds. While they remain under the care of the SWT for several more years, gradually weaning off of the milk formula and spending more and more time in the company of wild elephants, these interactions offer a kind of mentorship, enabling the orphans to learn the social and survival skills needed to lead a life independent of the Keepers.
Ultimately it is the orphans themselves that determine when they are ready to embark on a wild life, usually in the company of their closest orphan friends and joining up with older more experienced elephants. Many choose to return from time to time to meet up with old friends, especially during times of drought or hardship, often with wild elephants in tow. Perhaps most heart-warmingly, several have returned with babies of their own. To date, the SWT knows of 38 calves born to orphans hand-raised and returned to the wild and, each time, the mothers have proudly come back to share their precious additions with the human family who gave them this second chance at life. For elephants, family is everything, and for the Sheldrick Wildlife Trust, this is the greatest testament to the success of the Orphans' Project, not only to see the orphans thriving in the wild, now fully accepted by the elephant community, but also to see them experiencing all the joys of motherhood, now with a family of their very own once again, having lost so much when they themselves were just babies.
SWT Saving Habitats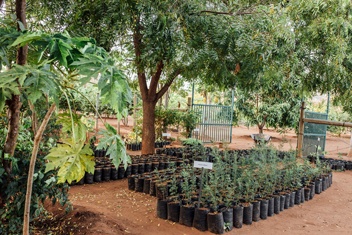 The Sheldrick Wildlife Trust with the support of local partners, including the Kenya Forest Service and Kenya Wildlife Service, work to secure Kenya's unique and endangered wild habitats. Measures include erecting and maintaining fence lines (Wild Borders) to secure wildlife areas and reduce human-wildlife conflict and providing financial support to empower community-led initiatives that protect and preserve areas of biodiversity.

Forests feed all forms of life — and the loss of trees have a devastating effect on habitats, wildlife, communities, and the global climate. Trees are what make our planet a home, but human activities are destroying them on a massive scale. Every year, deforestation wipes out an area of forest about the size of the United Kingdom.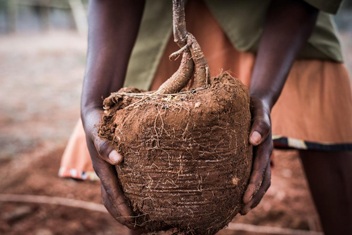 In Kenya, the Sheldrick Trust are working hard to change that. With ambitious reforestation programs, three tree nurseries have been created, located in key Kenyan ecosystems: the Umani Springs Nursery located in the Chyulu Hills ecosystem, the Kaluku Nursery is located in Tsavo and Amu Nursery is located within the Lamu Coastline. With the help of donors, the SWT team are nurturing tens of thousands of indigenous saplings, which they transplant in degraded or deforested areas. As well as transplanting saplings in conservation areas, which provide habitat, forage, and shade to all manner of wildlife, and prevents soil erosion and drought, the SWT donates seedlings to communities to foster their own tree canopy. These create shade but also provide communities with a sustainable source of firewood and hardwood and prevents extractive processes in protected areas. In recent years, the SWT has utilised Seedballs, which are thrown from the ground or from the SWT's aircraft to seed a large area to coincide with the rainy season. In 2019 and 2020, millions of seeds were sown in seed balling efforts took place in areas ravaged by bushfires or illegal logging and grazing.
When trees flourish, so do people, other plants, and wildlife. When they do not, rivers dry up, temperatures soar, soil erodes, and as a result, all organisms suffer. Through working closely with local communities, sharing why these reforestation efforts are so incredibly important and how the presence (or lack) of trees impact all aspects of life, the Sheldrick Wildlife Trust aims to restore Kenya's forests as thousands of saplings take root, grow tall, and help all life flourish around them.