Strulch Garden Mulch gets a mention in the Waitrose Garden Magazine
Prevent weeds with Strulch
Happy Easter
On my recent shopping trip to Waitrose supermarket I picked up a copy of their Garden Magazine. On page entitled 'Doing it Organically' there is a paragraph titled ' Mulch Your Way to Success'
It says " A mulch of home-made compost or manure is soon taken down into the soil by worms' improving the soil's structure and organic content. A thick layer helps retain moisture and suppress annual weeds too. Strulch from 9.99 per square metre waitrosegarden.com, a great mulching material made from wheat straw can be used in flower beds as well as in the kitchen garden"
Really pleased to have the mention and its good to know that if there isn't a stockist near you that Strulch can be bought on line.
Easter is early this year and although we had a glorious day yesterday in Yorkshire its downhill today- cooler and wet! Glad we got out in the garden yesterday and made the most of the sunny day. I have been on a plant buying spree! I am glad we took some photos of our garden in full bloom last year. That way I could see where the spaces are! I am a self-confessed 'plantaholic' so I can always squeeze in a few more in.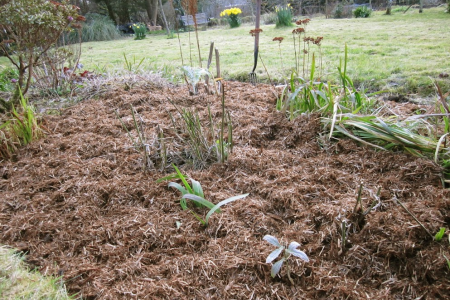 Sandra's Garden
I received this lovely comment from a customer this week.
"What great service!!!
Order on Saturday
Delivered on Wednesday
So I wasted no time in using my first bag that afternoon!!!! Picture attached
Just as it says, light and easy to use, nice smell and looks good.
Can't wait to see it on "all" of my flower beds, just need to do the weeding first.
Thanks again for your help and advice
Toodle pip"
Sandra
Greet to get feedback thanks you! Happy Easter everyone