South East Water Implements Hosepipe Ban 26th June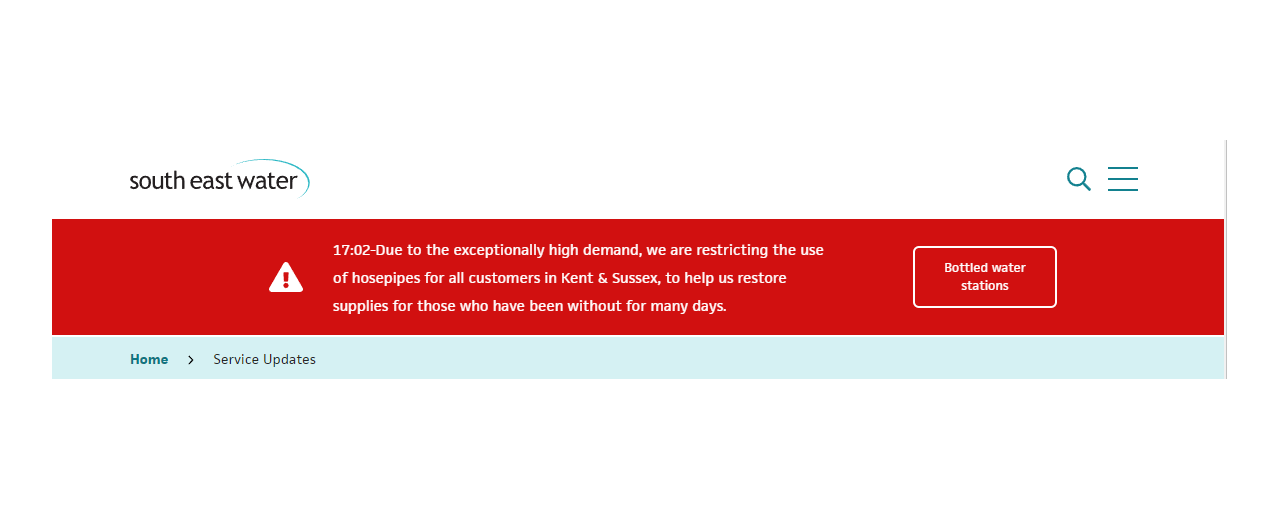 Kent and Sussex residents supplied by South East Water will face water usage restrictions due to unprecedented levels of demand. The company has announced that it has no other option but to limit the use of hosepipes in the region, with the restrictions set to come into effect on June 26.
South East Water has stated that its facilities are currently operating at maximum capacity. Every water treatment work and water source available to the company are being utilized to produce treated water and meet the escalating demand. However, despite these efforts, the company is struggling to replenish its drinking water storage tanks to satisfactory levels, putting at risk its ability to consistently provide clean and safe drinking water to its 2.3 million customers.
This decision comes after a prolonged period of dry weather, which has significantly affected the stocks of treated water available to customers. In recent days, customers in parts of the South East have already experienced water supply issues, with the company attributing these problems to the record-breaking demand.
David Hinton, Chief Executive Officer of South East Water, expressed concern over the rapid development of the situation compared to the previous year. While the company expected an increase in customer demand due to hotter weather, this surge has severely impacted their ability to maintain a consistent water supply to all customers. Consequently, the introduction of temporary use restrictions, including a hosepipe ban, has become necessary to safeguard water supplies across Kent and Sussex.
Hinton also mentioned the long-term weather forecast, which predicts a continued dry period with limited rainfall, albeit slightly lower temperatures. By restricting the use of hosepipes and sprinklers, South East Water aims to ensure sufficient water availability for essential purposes, particularly for vulnerable customers, while also protecting the local environment.
Effective from June 26, customers will be prohibited from using hosepipes for garden watering, car washing, patio and boat cleaning, as well as filling swimming and paddling pools.
What can we gardeners do?
Strulch offers a practical solution to retain moisture and reduce soil evaporation. By adding a layer of Strulch, a moisture retaining mulch, gardeners can mitigate the impact of drought conditions. Strulch acts as a protective layer, reducing water evaporation from the soil and helping maintain soil moisture levels for longer periods. It is an environmentally friendly alternative that conserves water and supports sustainable water management in regions facing water scarcity and restrictions.